Mobile Advertising LED Display Truck
product number:YES-V9
---
Mode: YES-V9
Product Description
1. LED Screen:
It uses imported EPISTAR chips,high level of illumination, long life-span, and high refresh frequency and easy to maintain.
2. Chassis brand: JAC
, meets Euro Ⅳemission standard, original imported motor(low noise, fuel efficient ). The cockpit is equipped with air conditioning, CD player, FM and so on.
3. Generator set:
It is specialized designed for YEESO. Lower noise and stable.
4. Lifting system of LED screen:
We use the electric puts as the lifting system, since the synchronization error of two Electric puts is only 1mm.
5. Vehicle air-conditioner:
Its most important function is cooling the LED screen and the generator, also it could well cool the carriage, and provide a very comfortable environment for the staffs. The vehicle air- conditioner also has excellent quake-proof index and waterproof index.
6. Multi-media Control System:
Integrated control cabinet with industrial computer, amplifier, and operation buttons together. The speakers are equipped in the frame of carriage. With it, you could do on-site live recording and broadcasting, television program broadcasting, live karaoke and so on.
7. Interior space optimization:
We offer a free space of 1.6 m × 4.8 m in the carriage. So customers could use it as a reception room, a showroom, or a dressing room and so on.
8. Two sides LED screens or three sides LED screens are optional.
Applications:

Mobile Advertisng Product Launches Exhibitions Sports Events Trade Shows

Public Announcing Festivals/Celebrations



◎ It use JAC Chassis, can load huge weight

◎ 15 Sqm LED screen mounted on big truck

◎ Unique Patented Design, with beautiful shape

◎ 2015 Milan Expo appointed Advertising truck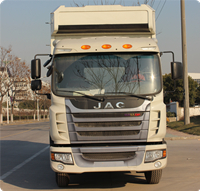 Model:JAC K series Dispalcement:4.8L

YES-V9 LED truck use JAC geir hair truck chassis as the carrier. The external dimension is 9010mm*2495mm*3925mm. Its wheelbase is 5300mm. It can also meet the national IV emission standards. The cabin will streamlined mask, honeycomb shape front grille, modular crystal shaped headlamps , together with large-scale three-dimensional "Dongfeng" logos, it will leave a deep impression for clients. The driving room has pacious and comfortable driving space, and humanized interior design, as well as high security level. The truck body apply aerodynamic design, it has the features of drag coefficient, low noise and high speed, comfort driving. The truck body applies flow lines and prominent front design curves to enhance the three-dimensional visual perception. The cab use four-point cab suspension and air bag to increase shock absorption. It is very safe and stable to drive on road.







YES-V9 LED truck is equipped with outdoor full color LED screen. Its size is around 14 sqm. Its the biggest size mounted screen option available in advertising truck market.

YESSO have a LED screen production line specially arranged for LED vehicles. We choose high brightness LED chip and fine raw material to build the LED screen. We apply high refresh rate technology to keep the LED screen have a smooth picture. YEESO have years of accumulated experience and advanced technology to improve our cabinet design, connector design, waterproof and shockproof design. We can make sure that the quality of our LED display to be the best.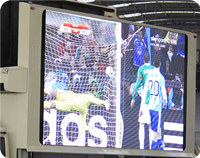 Electric System:YEESO designed a vehicle-specific 16KW pole ultra-quiet generators. It has the features of low noise, low fuel consumption, light weight, easy to start and reliable to run.It has many advantages in its wink intake and output capacity, automotive shock-proof design, noise reduction and heat dissipation. For other major electrical components, we use Omron or Schneider brand. The whole vehicle has passed through the EU certification, it is completely compliant with EU safety standards.

Multimedia devices:YEESO control panel cabinet has combined the vehicle-specific industrial computers, embedded car LCD monitors, high-power amplifier, speakers and so on. All the power, screen lifting system, hydraulic stage flexing system can be controlled by center control. It is very easy to use.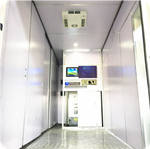 YEESO truck series has a large interior space. We stick to elegant inner decoration and cozy environment. We use white light aluminum panels and apply gluing process between gaps. At the top of the interior room, we install LED Lamps. We install built-in air-conditioner, and apply a flap leather floor on the stage surface; We improve the heat dissipation to create a good working environment.




Tech Parameter of YES-V9 LED Stage Truck
Chassis parameter
Chassis
JAC
Emission standard
Natuinal IV standard

External dimension
9010mm×2495mm×3925mm
Total weight
12280kg
Wheelbase
5300mm
curb weight
10800kg
generator power
4.8L/112KW
Passenger number
3 people
Outdoor LED display(left side)
LED screen dimension
5440mm×2560mm
Pixel
8mm
LED chip
R、G、B: Epistar

Model size
320mm(W)×320mm(H)
Brightness
≥6500cd

max power
1000W/㎡
average power
500W/㎡
life span
100000H
Scrolling light box
light box size
2100mm×1580mm×2 sets
Roller diameter
100mm
motor power
≥80W
control mode
smart control
Light source
LED lighting
printing papers
6~8 pieces
Single red color LED screen and rear side LED screen
LED bar dimension
6080mm×480mm
Rear screen dimension
1280mm×1920mm
Pixel
10mm

LED chip
red:Epistar
Model size
160mm(W)×160mm(H)




Screen lifting system
Lifting system
German Electric putt lifting system
Lifting height
2000mm
Hydraulic supporting legs
Four supporting legs,lift up by 300mm,Each can support 3T




Super quite generator
Brand
YEESO
external dimension
1540mm×780mm×1070mm
Power
16KW
power
super quiet
gasoline type
diesal
cylinder numbers
four cylinder, water colling
Displacement
4.33L
Cylinder x stroke
114mm×120mm
External power source
Voltage input
380V
Voltage output
220V
current
50A
power comsuption
average power comsuption 0.5wh/㎡
Multimedia control system
Industrial computer
Processor: Core Duo CPU, graphics card: 1G, hard disk: 500G, optical drives: DVD, Memory: 2G
Monitor
15 inch LCD
power amplifier
200W
Speakers
200W
control system
LINSN/YEESO point by point correction technolege




External frame structure and interier decoration
surface paint
white
interior decoration
fire proof board
Axlebox
sheet metal weilding
Water proof process
whole vihicle glues pouring
air conditioner
imported hanging type air-conditioner




Fitting selections

1.LED screen resolution(P10、P8、P6)

2.surface color painting(according to client's request)

3.Double sides LED screen or Triple sides LED screen.

4.Hydraulic stage、fence、pedal、ladder

5.video processor

6,asynchronous control system
---
GET A QUOTATION & DETAILED SPECIFICATION